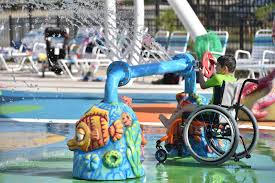 Here is a amazing story about a father who made a park for his disabled daughter. The family went on vacation and the daughter saw kids playing ball in the pool. Morgan walked in between the kids and hit the ball because it was her way of saying she wanted to play, but the three kids immediately got out of the pool. When the family went back to the hotel the father was bothered by the encounter. After giving it a lot of thought he had a great idea which was building an amusement park named Morgan's Wonderland. Morgan's father sold his companies to build the amusement park for his daughter and other disabled people who really enjoy going there. It took three years of raising money and working with doctors and therapists to create an all-inclusive amusement park for people with or without disabilities. Morgan's Wonderland officially opened in 2010 in San Antonio, Texas. It is free for anyone disabled and a small charge for anyone that visits the park with them, family, friends, aid or therapists.
Since the park has opened it has had more than one million visitors from all 50 states and from 69 countries. Last year they even had 10 children with special needs travel 5,300 miles from Sweden to visit Morgan's Wonderland. The park is very sensory sensitive for all abilities and brings such joy into their lives. How they set it up so all could enjoy is amazing to see.
This park looks really cool maybe someday I can go with my family or friends. If you have a moment check it out.
_______________________
Written By: Ashley Florscher
This blog post was written by a member of the eVero Outreach team. The Outreach program aims to teach individuals with disabilities marketable job skills, and enable them to find gainful employment. To learn more about eVero Outreach, click here.