There are lots of amazing animals in this world, and this 3 year old golden retriever is one of them!
This golden retriever serves as the facility dog for the University of North Carolina's baseball team, and is considered their MVP. The dog's name is Remington. He can give high-fives to the players, carry chocolate milk to injured athletes, open a refrigerator, and understand more than 100 commands, including cuddle and visit.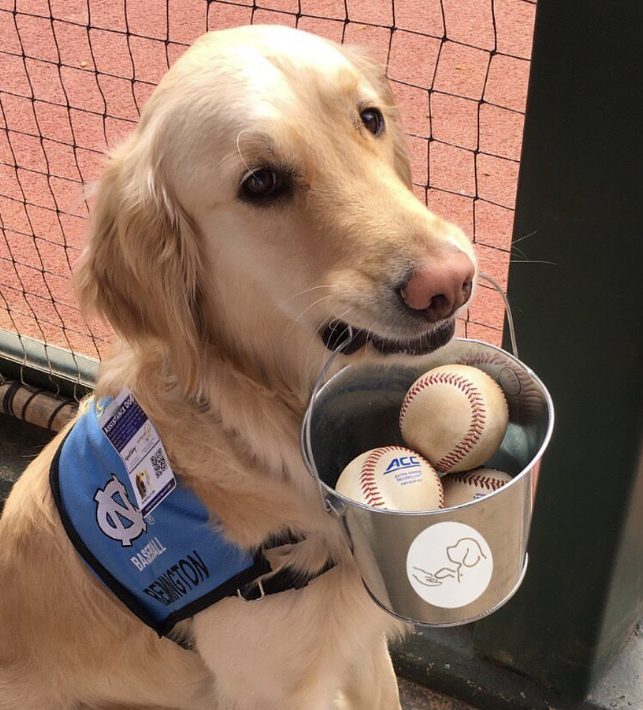 His real talent is connecting with the players on an emotional level. On his typical workday, he roams through the school's physical therapy clinic and the athlete's training room where he senses who needs help the most.
Some of the helpful things he does will be lie next to an injured player recovering from surgery to comfort them or play fetch with a player stressed out about exams to calm them down and focus on something fun instead. Before one of their games, sensing sadness he laid down and rolled over in front of an umpire who had recently had a death in his family, in turn the umpire rubbed him and was smiling all through the game.
His handler is Teri Jo, who is an athletic trainer and physical therapist for the team. She says it is something to see how he really helps take the anxiety away from the players. Terri Jo was paired with Remington in 2016 when she applied for an assistance dog through Paws4People Organization.
The students and players love to work with Remington, and sometimes even tell Terri Jo, "We are here to work with [Remington] today, sorry; not with you"! She doesn't mind, though, since she sees how much he helps them.
Hope you enjoyed reading about him, I know I did! You can read more about Remington on the UNC website, and follow him on all social media! We love to check out his Facebook page!
___________________________
Written By: Ashley Florscher
This blog post was written by a member of the eVero Outreach team. The Outreach program aims to teach individuals with disabilities marketable job skills, and enable them to find gainful employment. To learn more about eVero Outreach, click here.