Here is an awesome app for surfers called Surfline. You can download it on your Apple or Android devices.
Here is a little history about this app. Surfline was founded in 1985 as a pay-per-call telephone surf report by a Southern California surfer, Jerry Arnold, along with David Wilk and Craig Masuoka. They started with over 50 surfers they had employed to report surf conditions at dawn from their local surf spots to an office in Huntington Beach, California. From that office, a special phone system made the surf reports available for people to call in and they were charged 50 cents each. The telephone number, 976-SURF, became well known in the world of surfing. In its first month they received about 6,000 calls per day. As it became more popular Surfline expanded through the rest of Southern California to Northern California and then into Florida and Texas.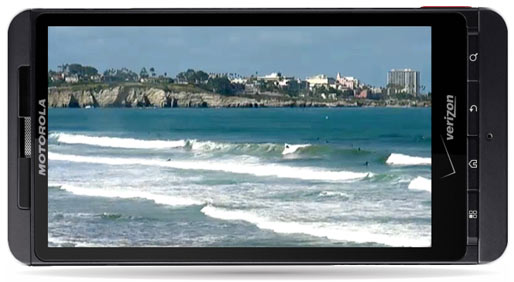 Surfline has now become an awesome place to check surf conditions all over the world. No longer do you need to head to the beach to see there is nothing worth surfing today and head home. You can get up to the minute webcams for your favorite surf spot with the Surfline app. It also has interesting surfing history about things like when riders first started using surf leashes. It also has news on current events and events that were in the past. I enjoyed reading the history and checking the wave conditions.
My brother and sister-in-law used the Surfline app all the time while they were living in Hawaii and highly recommend it. As you can see from my sister-in-law's photo below there is nothing like riding inside an awesome wave. If you are a surf rider this is an app you will find as a great tool to plan your day.
___________________________
Written by: Ashley Florscher
This blog post was written by a member of the eVero Outreach team. The Outreach program aims to teach individuals with disabilities marketable job skills, and enable them to find gainful employment. To learn more about eVero Outreach, click here.